Fr. Serge greeted us warmly and immediately escorted us next door to St. Joseph's school where classrooms had been converted to a makeshift chapel. We made our way through the overflow crowd to our seats surrounding the altar. Fr. Serge, with Fr. Mike as con-celebrant, began a spirited celebration that included three First Communions, two baptisms, blessings of the children's and adult choirs as well as a special blessing for the mothers of St. Michel's. It was Mother's Day in Haiti.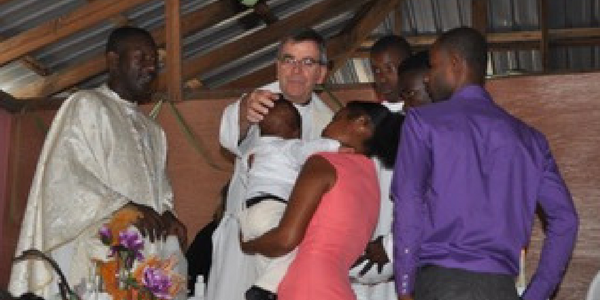 Halfway through the nearly three hour celebration a hard rain shower hit but no water penetrated the temporary roofing of the school chapel. During the sign of peace we waded through the congregation exchanging smiles and handshakes with parishioners inside and outside of the building. The Mass ended on a light and joyous note as Martha Serafin tried her hand addressing the congregation in Creole and Fr. Serge presented wrapped gifts to parishioners from both St. Mary's and St. Michel's, including a special gift to the most elderly mother of the parish.
After Mass we had lunch at the nearby rectory. As we sat on the shaded veranda Fr. Serge recalled how he nervously hunkered down in the rectory while Hurricane Matthew battered the building. The rectory is an essential parish meeting place and Fr. Serge noted that it was St. Mary's immediate financial support that allowed him to quickly replace the building's windows along with the porch roof and iron grating.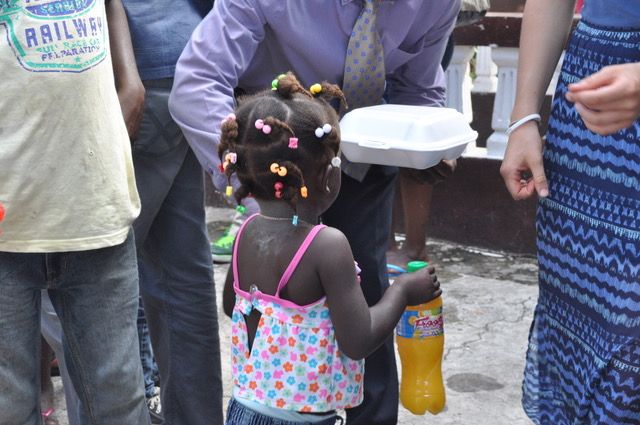 Later in the afternoon we sponsored a meal of chicken, rice and beans for the Roche-a-Bateau community.  Parish staff and volunteers prepared the meal so we assumed the roles of greeters and servers. People came out of the woodwork. A line of almost three hundred
people, mostly children, wound around the rectory. We scooped from huge, heaping bowls of rice and an industrial sized container of grilled chicken. It was a great opportunity to connect personally with the St. Michel's community.